BLECH RUSSIA - Exhibition for Sheet Metal Working:
BLECH Russia: 10 March 2009 - 13 March 2009. - St. Petersburg - Russia.
Address:
103, Bolshoy Prospekt V.O
St Petersburg 199106
Russia
Download Map of Lenexpo
Why Exhibit?
The Russian economy is in full swing and domestic demand is consistently rising. Economic growth rates are a good 7% per year and the country's 142 million consumers have a lot of catching up to do, so modern cars, reliable white goods and comfortable flats are in demand like never before.
Production within Russia is still unable to meet the requirements of industry and consumers. The automotive sector is an important economic factor in this context and is constantly hitting new highs. There are now 13 vehicle manufacturers in the country, producing cars and commercial vehicles at seven main sites. This means there are many exciting sales opportunities for the mechanical engineering sector and automotive suppliers can expect economic rewards from following their major customers to Russia.
The exhibition for sheet metal experts from East and West
BLECH Russia is your perfect starting point on this huge market, because it is the only Russian exhibition for sheet metal experts from both East and West. Co-located with the St. Petersburg Technical Fair (PT Fair) and AUTOPROM/ICTA in the central exhibition centre Lenexpo in St. Petersburg BLECH Russia brings you together with the greatest possible number of qualified buyers, specifiers, decision makers and business partners. PT Fair 2008 already showcased some exhibitors from the sheet metal working sector. It was held in March 2008 and had 15,000 visitors in total.
Exhibitor Profile:
* Sheet metal, tube, sections (ferrous and non-ferrous)
* Finished products, components, assemblies
* Handling
* Separation / Cutting
* Forming
* Flexible sheet metal working
* Tube / Section processing
* Machine elements
* Joining / Welding / Fastening
* Surface treatment of sheet metal
* Automation and Robotics
* Tools / Dies
* Controlling / Regulating / Measuring / Testing
* Quality assurance
* CAD/CAM systems / Data processing
* Factory and warehouse equipment
* Environment protection / Recycling
* Safety at work
* Research and development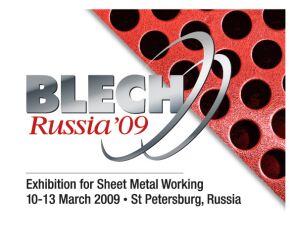 BLECH Russia 2009 - Venue:
The Lenexpo Exhibition Complex is the biggest exhibition centre in north-west Russia and is situated on Vassilevsky Island, approximately 6 km west of St Petersburg's city centre.
Pavilion 7 of Lenexpo
Vasilievsky Island
St. Petersburg
Russia
Arrival:
The Exhibition Centre can be reached by taxi and public transport from the city centre in approximately 20-30 minutes.
The nearest underground stations to the complex are Primorskaya and Vasileostrovskaya from which buses run to the exhibition centre. For further information: Finding Lenexpo by Metro
St Petersburg's Pulkovo Airport is situated approximately 16 km from the city centre and 22 km from the Lenexpo Exhibition Complex. Journey time by taxi to the Exhibition Centre is approximately one hour. We recommend contacting your hotel from the airport on arrival to arrange a taxi as prices from the airport can be expensive. Our partner, Restec Tour, would also be happy to arrange transfers from the airport:
Tel: +7 (812) 303 9539
Email: incoming@restec.ru
The airport offers a shuttle service to St Petersburg city centre. For further information: Shuttle Buses from Pulkovo Airport

Opening Hours:
10 March 2009 10:00 - 18:00
11 March 2009 10:00 - 18:00
12 March 2009 10:00 - 18:00
13 March 2009 10:00 - 16:00


Tickets:

Pre-registered visitors FREE
Onsite registrations 100 Rubles
The official show catalogue is available at the show only.